here's a lot to love about Fido and Fluffy. But we can't deny that dogs, cats, and other pets can be rough on home furnishings, whether they mean to or not. Fortunately you don't have to sacrifice your pet or your sense of style. Below are a few tips to help you create a home you and your furry friends will love.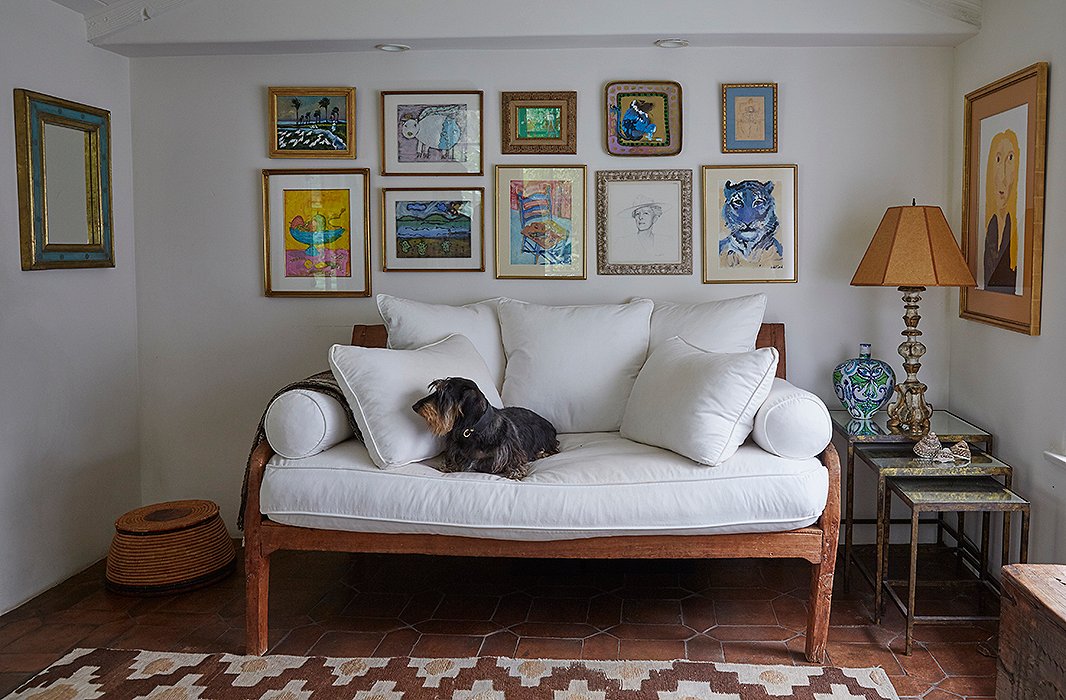 Where does designer Kendall Conrad's dog sit? Anywhere it wants. Photo by Victoria Pearson.
Choose performance-fabric upholstery.
Even if your pets wouldn't dare to jump on the furniture in your presence, we've all seen enough YouTube videos to know that when the owner's away, the dogs and cats often will play… on a sofa or an armchair. Fortunately, stain-resistant, liquid-repellent fabrics—and the furniture they cover—are now available in so many stylish options, it's easy to find pieces perfect for your taste, space, and budget that just happen to be washable or wipeable. Another option: furniture with removable, washable slipcovers.
While most everyone will agree that silk and chenille are pet-unfriendly materials, leather has both fans and detractors. On the plus side, brushing fur and dirt off leather furniture is a cinch; on the minus side, claws can wreak havoc on it in a flash.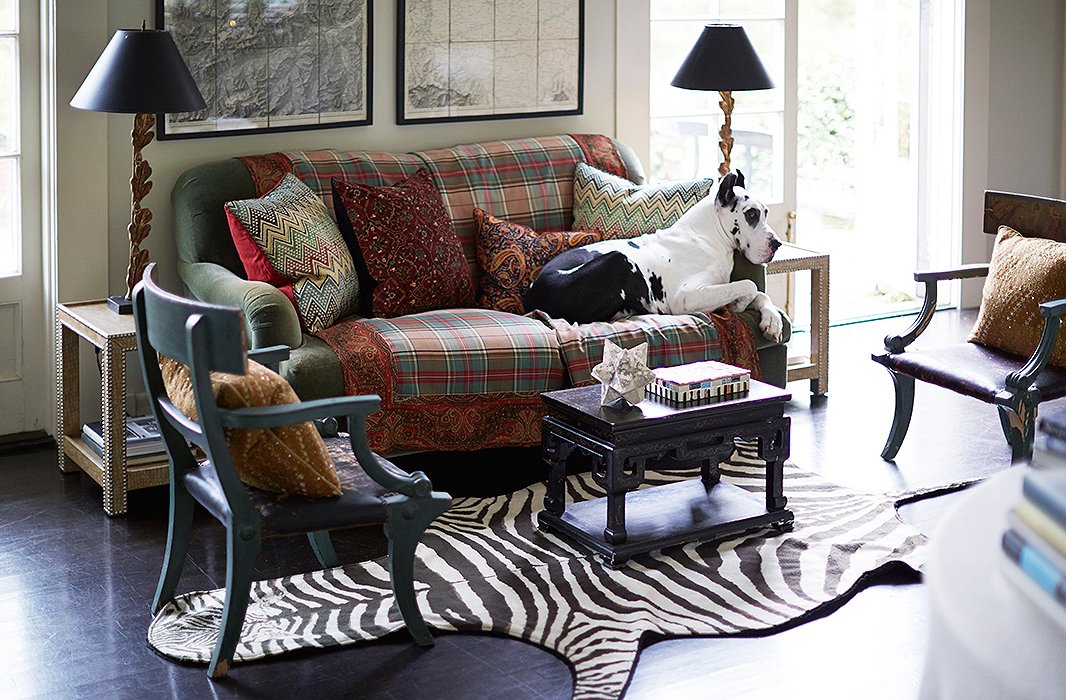 Blankets and throws help protect furniture from especially voracious shedders or pets whose claws should be registered as dangerous weapons. Photo by Manuel Rodriguez.
Toss a throw or blanket over your furniture.
Another option for protecting your upholstery is to cover it with a chic blanket or throw. Opt for machine-washable styles, and if your four-legged friend sheds, consider choosing colors that will help hide stray fur. (And if your pet has a coat of many colors, your best bet is probably a multicolor throw like the one in designers John Dransfield and Geoffrey Ross's home above.)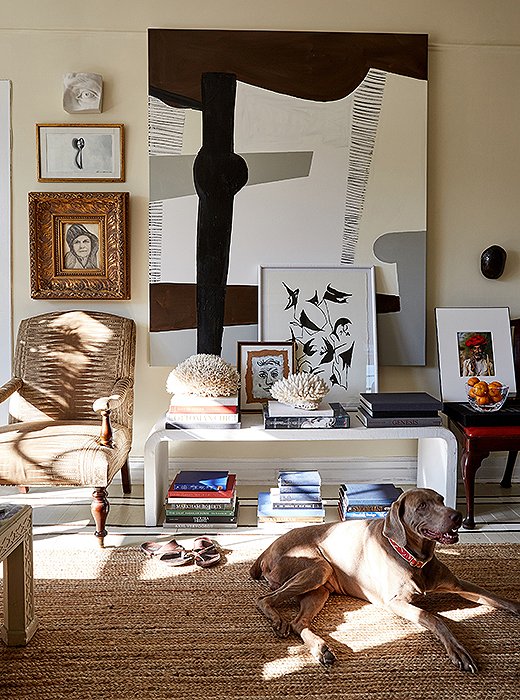 Every pet deserves a place in the sun—ideally on a durable, low-maintenance rug. Photo by Frank Tribble
Opt for low-maintenance rugs.
Accidents happen. So do hairballs and upset tummies. That's why in the rooms most frequented by your pets, you might want to replace the antique Aubusson rug with an easy-to-clean indoor/outdoor rug. As with performance fabrics, these rugs have become impressively stylish over the years and are now available in a huge array of styles. Sisal, sea-grass, and other natural-fiber rugs are also an option, though long claws can get caught on them. If you have a particularly playful pet, you might want to avoid rugs with fringe. For all pets—and people, for that matter—include a rug pad beneath the rug. It will prevent overeager dogs from skidding when they run to greet you at the door, and it adds an extra layer of protection for your floor.
Keep toys in an accessible but attractive basket.
Dogs and cats see much better at night than do humans, which is why they won't trip over their stray toys in the dark but you might. Prevent mishaps and keep your home tidy by placing a stylish basket just for their playthings in a spot easy for them to access. Maybe you can even train them to return the toys to the basket at the end of the day (and if you do, please tell us how you managed that).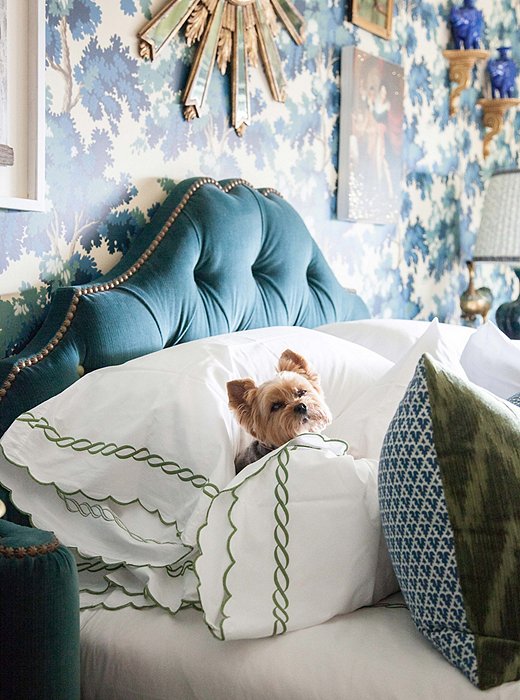 We just wanted an excuse to include this photo of designer Alex Papachristidis's adorable dog, Teddy. Photo by Lesley Unruh.
Don't forget your olfactory sense.
Even if you monitor the litter box religiously and bathe your dog every other week, there's a chance that errant aromas have infiltrated your home. You might not notice because you're used to them, but guests likely will. Consider adding fragrance diffusers to your rooms (out of reach of your pets, of course) or lighting a scented candle before company arrives.
Be mindful of where you display your breakables.
Where you place your collection of Murano glassware or Staffordshire pottery will depend on your pet. With one enthusiastic swish of a tail, a German shepherd can clear a coffee table of every figurine and catchall; with one artful leap atop an étagère, a cat can transform a shelf of crystal into a shelf of shards. That doesn't mean fine objects and pets are mutually exclusive. It just means to keep your pet's habits in mind.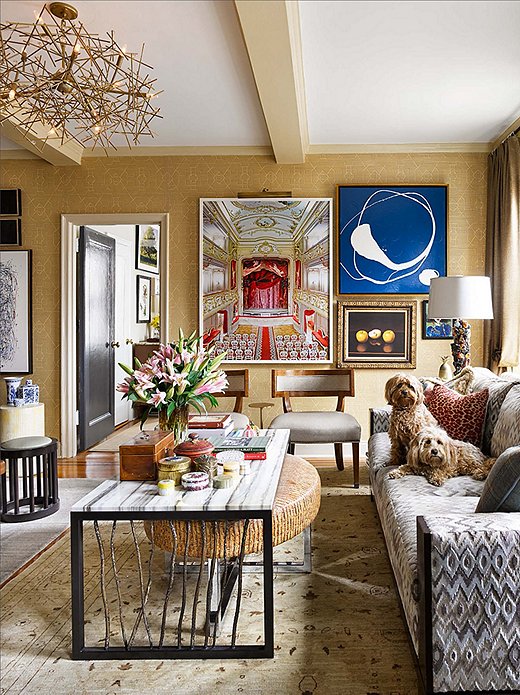 As designer Philip Mitchell, owner of these Ganaraskans, has said, "If you want to use a beautiful silk fabric and you have a pet, it doesn't mean you can't have it. Just know it's not indestructible and that means you're going to have to replace it sooner rather than later."  Photo courtesy of Philip Mitchell.