'Purple is known for its invigorating and calming abilities, embracing the power of both warm and cool colors,' says architect Sarah Barnard. 'Choose natural shades like eggplant, lavender, and lilac for a more grounded effect, especially for those who fear overly saturated spaces while looking for the positive feelings of joy and calm purple can offer.'
1. DRENCH THE FURNISHINGS IN RICH PLUM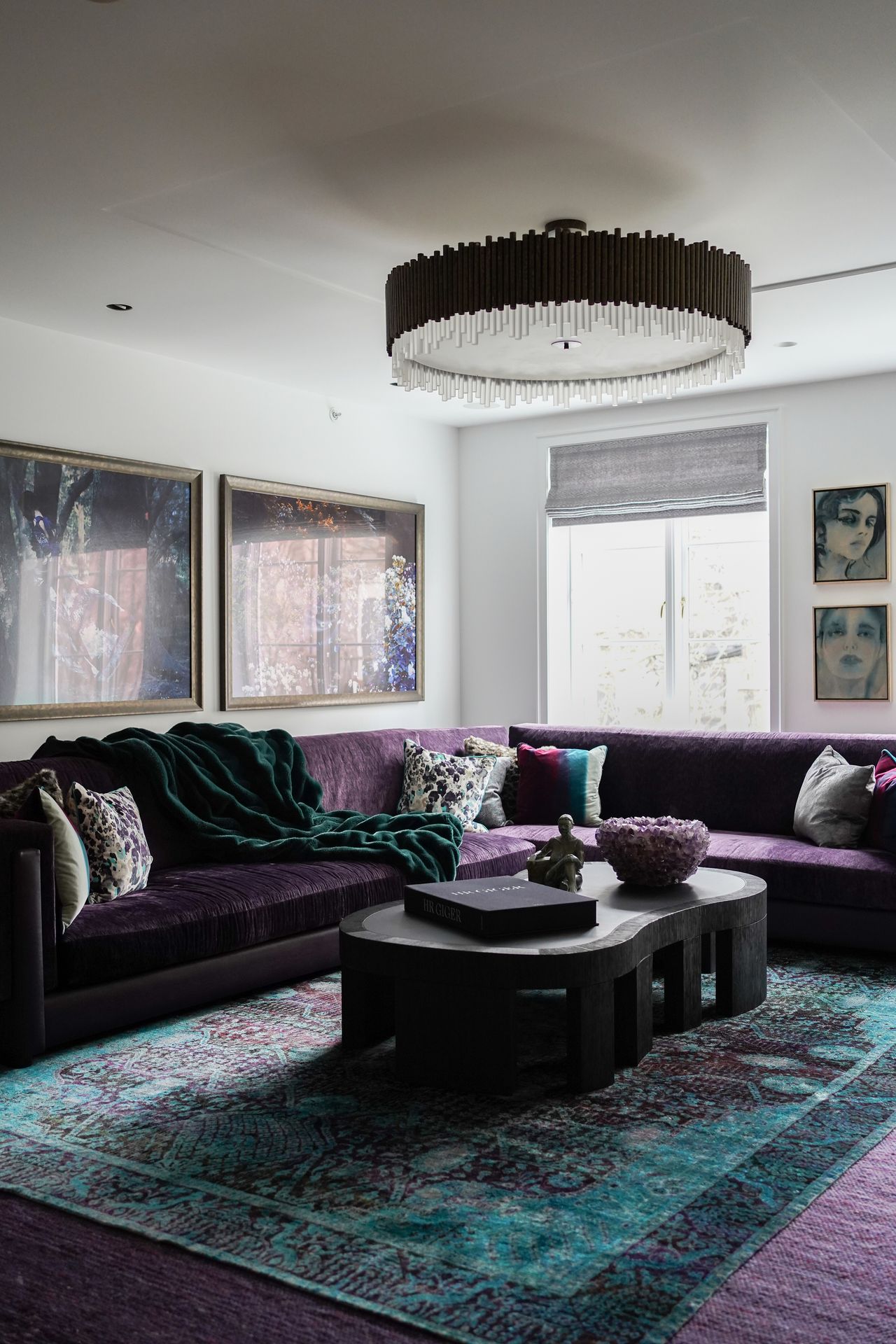 Purple is known as the color of royalty, so for an elegant living room, no shade can do better justice. Bring plummy accents into your soft furnishings, and drench the space with this fun hue.
This is a great way to balance the hue in the room as well. By drenching your sofas, stools, carpets, or coffee tables in purple, you can ensure that purple only dominates the lower half of the room. By painting your walls white or cream, you can offset the dominance of purple.
'Purple happens to be my favorite color, so I have used it somewhere in each of my homes,' says Lauren Sands, founder, LES Collection. 'I love a deep eggplant, and with toddlers, it is the perfect shade for a family room sofa. Elegant and luxe, while also able to hide just about anything.'
2. CONTRAST PURPLE WITH BLUES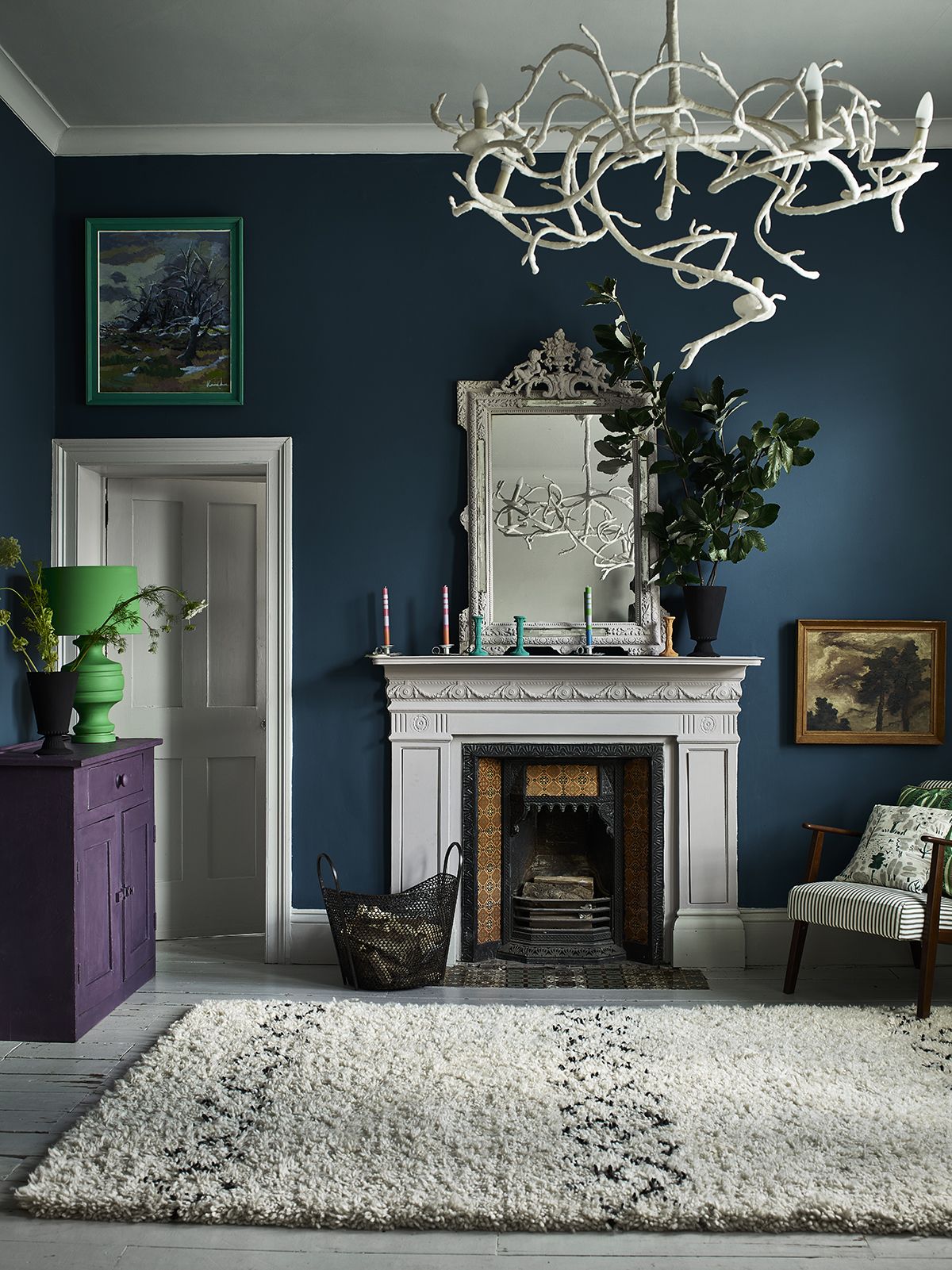 Purple's regal character makes it the perfect companion to other jewel tones like emerald green, teal, deep blues, and even black. The rest of the space can be dotted with bright selects like fuchsia and yellow for a fantastic contrast.
'I've used light lavender in pillows and reupholstered chairs in a light lavender too,' says Kim Armstrong, interior designer and founder of Kim Armstrong Interior Design. 'I think purple blends with so many colors, but my favorite colors to blend with purple are green and blue. Those three colors together are soft and watery, and very easy on the eyes.'
Adding to your living room ideas, keep greys or whites as the background for your purple, and add a further rich personality by layering the room with a darker wood.
'Deep purple hues go beautifully with teals and blues,' says Lauren. 'You can also introduce metal accents into the interior. I love a deep dark bronze mixed with purple. When accessorizing, it's easy to bring in pops of yellows, and orange to make the space feel fun and playful, while still sophisticated (always my goal in a family space).'
3. PAINT YOUR LIVING ROOM WALLS IN A DEEP TONE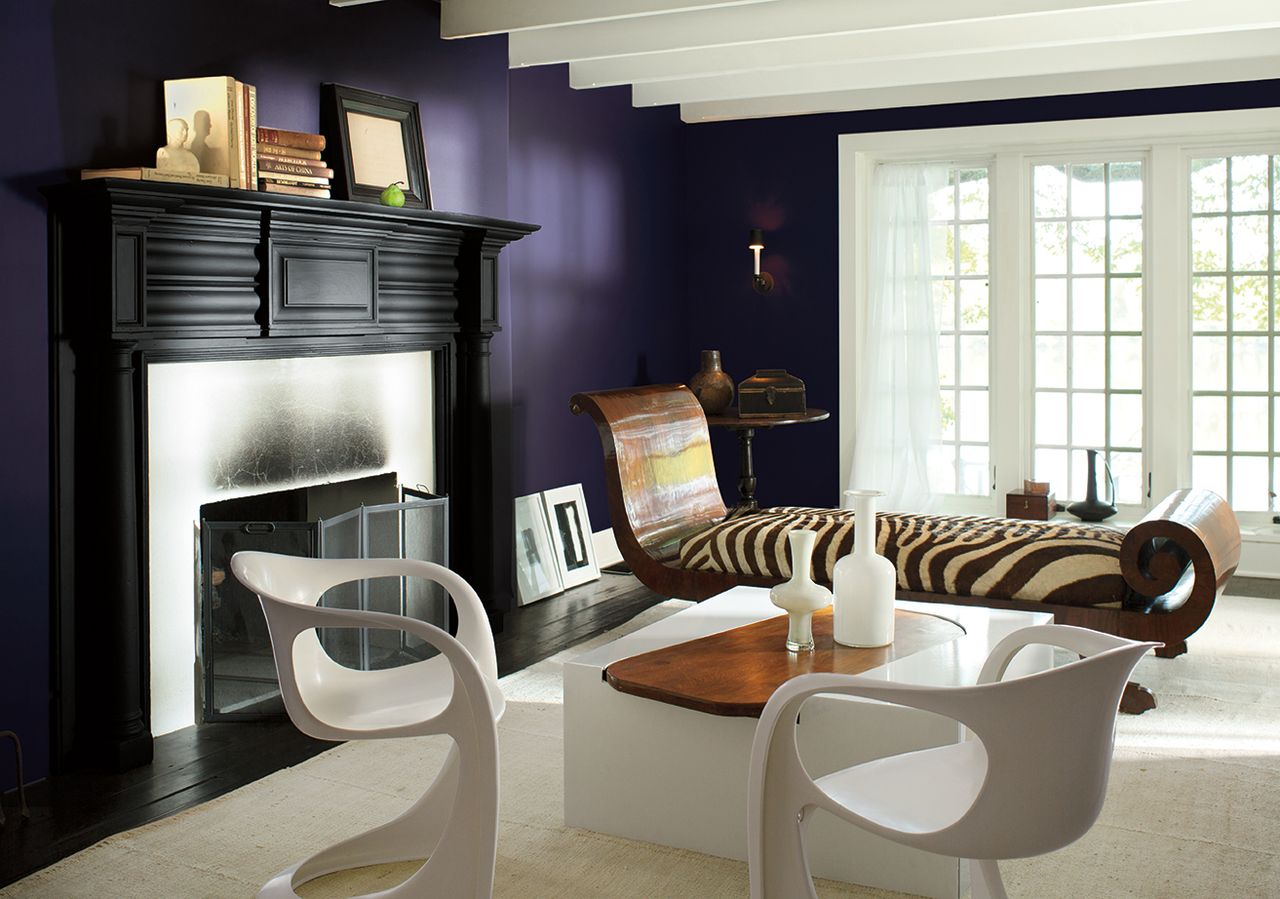 Did you know that Vincent van Gogh used violet in many of his 1880s paintings, showing irises and skies? In fact, in Starry Night, he used violet with complementary yellow. Who then, can debate the purpose and importance of this color?
'Purple is a multifaceted hue with a great balance between the calming cooler tones of blue and the warmth of red,' says John Ashton of Albany. 'Strong deep purples including plum work well paired with natural tones or try tints such as lilac and periwinkle for a calmer space. Purple can change dramatically in a different light, so always make sure you buy a sample pot in your chosen color to try in the room you're decorating.'
When deciding on how to design a modern living room, layer on the lavenders, purples, or berry tones on your walls for maximum drama. You can even use a two-tone purple. One light lavender on majority of the walls and ceilings, and then a bold accent color – such as a rich eggplant on a statement wall.
4. BRING IN TEXTURE TO SOFTEN PURPLE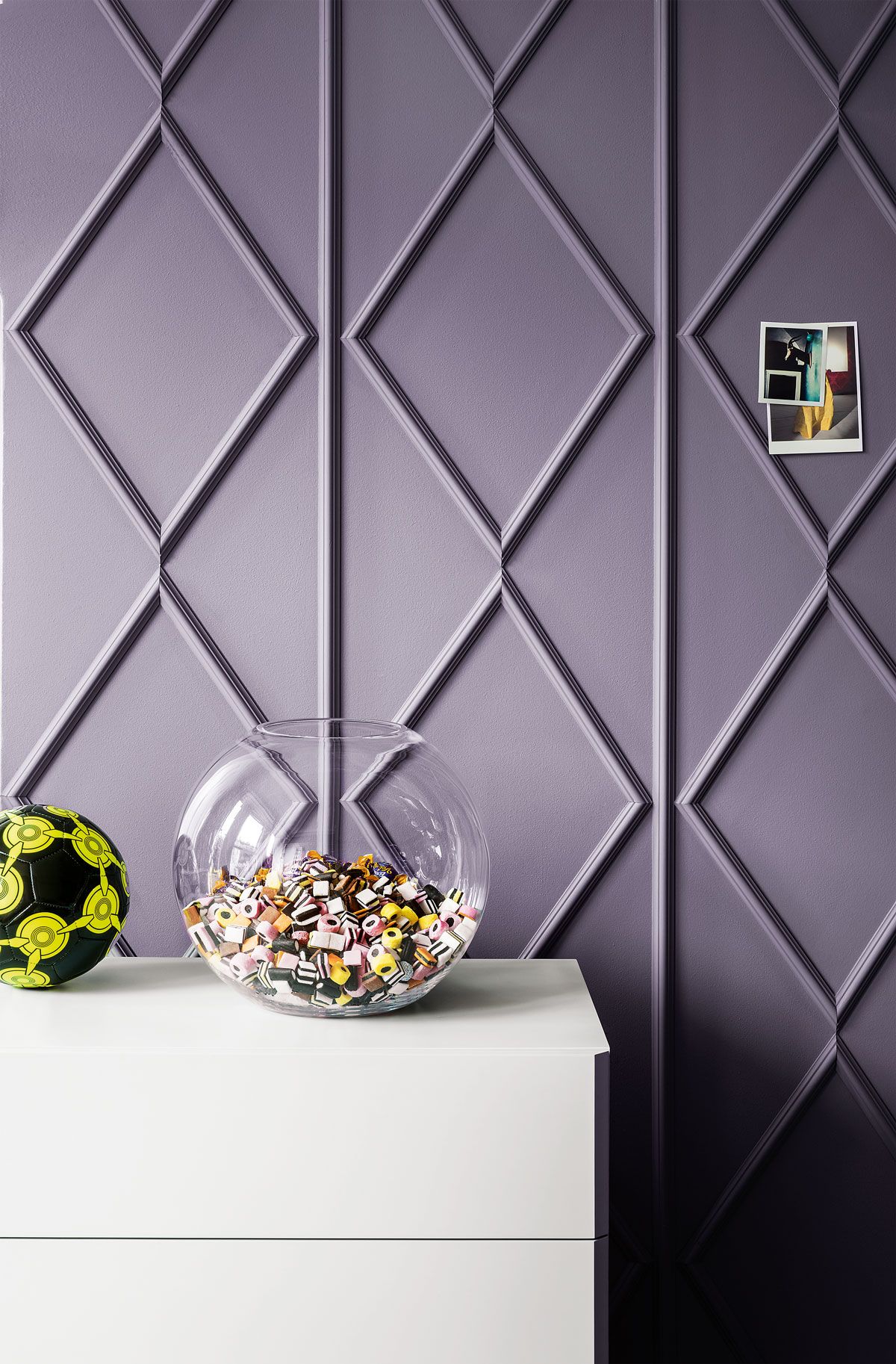 'If you're unsure as to the impact of purple in your living room, use a variety of textures to balance out a range of purple shades, adding dimension,' says Sarah.
Warm purples can cozy up a space and even work well in modern rustic living rooms. The way to use it in a more subtle manner is by painting a plummy accent on a textured or a wood-paneled wall.
The ridges and organic background of the wall will take the focus away from the deep purple tones, and set a composed scene.
Here, the bulk of the palette is quite light and neutral and mixed with the textured wall, the space is eye-catching while still feeling restful.
5. ADD VIOLET TO THE SMALLER DETAILS IN THE ROOM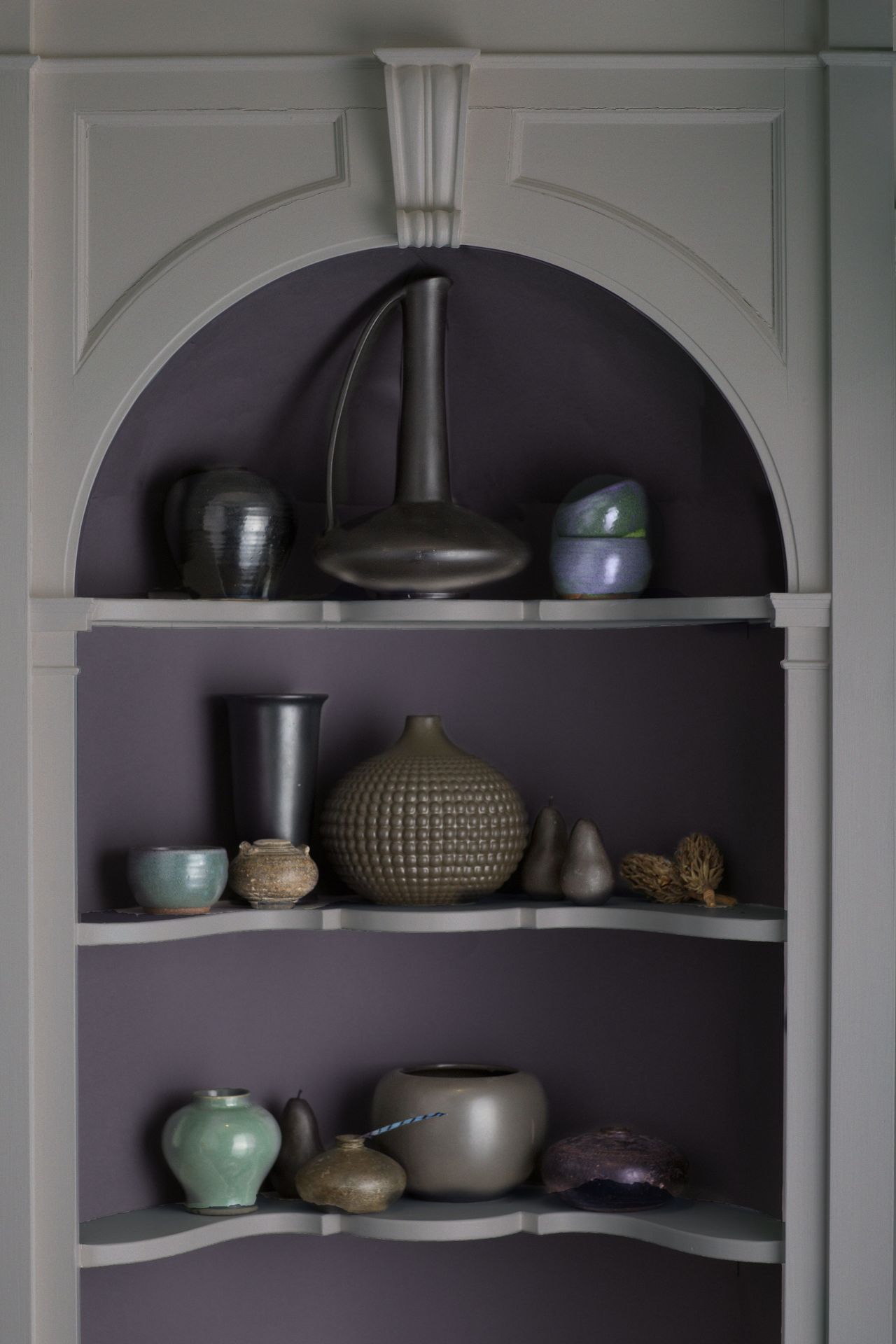 Purple can all too easily become heavy and overwhelming. If yours is a tiny home, we suggest avoiding the idea of putting the bold color on all of your walls and selecting a few of your favorite purple hues for decorative accessories and details. Or even choosing this hue for the living room corner.
This way, you'll get a nice smattering of color throughout the room without having to stress. Use purple on wall trims if your room has beautiful architectural details.
Liven up a small, unattended corner with purple wall paint, like in this design. The niche, painted purple and contrasted with dark grey, give this traditional space a modern, eye-catching twist that serves as a great background for a selection of objects.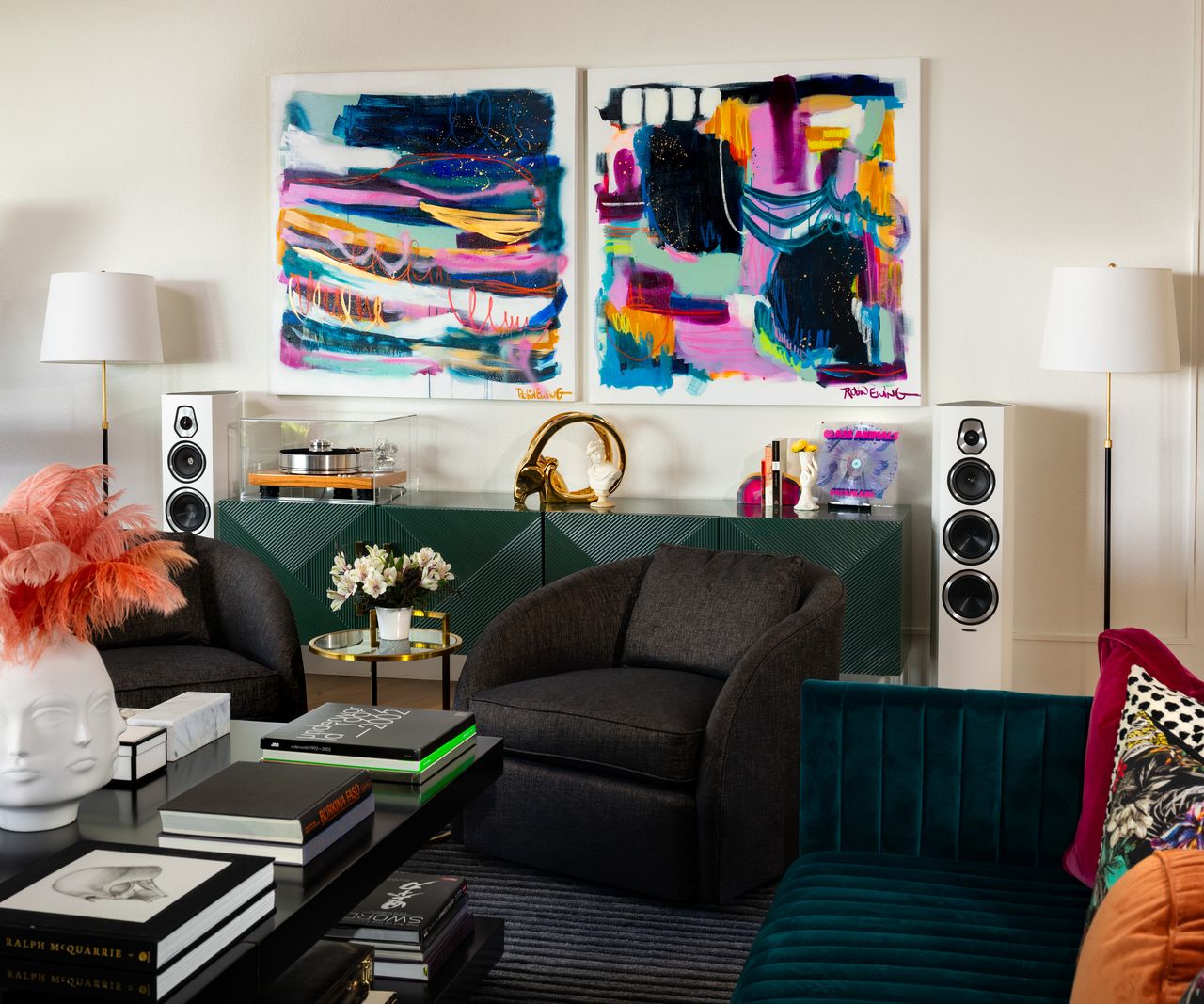 'One strategy to integrate strong color is to use it in details such as contrast welt in furniture and pillows, drapery trims, and or pulling it in from artwork like in this project,' says interior designer Janelle Burns of Maestri Studio.
'This is a really simple way to spread the strong color around a room without having a whole chair be purple, for instance. Since details are on a smaller scale, it doesn't come off too strong when entering a room."