Use your entryway to make a welcoming first impression for friends and family—no matter how many times they visit. When it comes to styling your space, aim for creative storage solutions that work alongside decor elements. For instance, cabinets, benches, shoe storage, consoles, coat racks and umbrella stands provide a functional yet visually pleasing spot to house accessories. Statement-making decor, versatile furniture and floor coverings all showcase your abode's aesthetic. Turn the front door into a grand entrance with these foyer decorating ideas.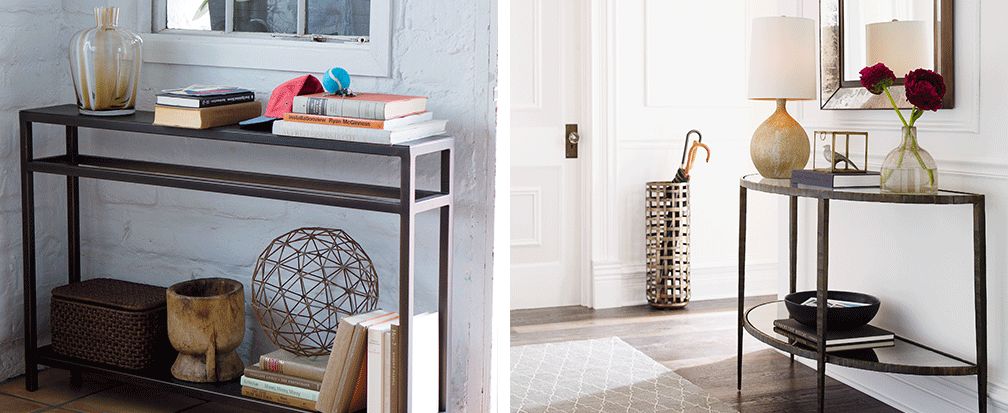 Step 1: Focus on the Foundation
Work from the bottom up. Whether you're creating an entryway where there really isn't one or transforming an existing grand foyer, it's important to delineate the space, and nothing does that better than a rug. Choose one that is appropriately sized for the area. You want it to be big enough so that each guest remains on its surface even when entering your home in a group and closing the door behind them, but not so big that it encroaches on your living space or other rooms.
When choosing a floor covering, keep the outdoor elements in mind. This smaller space is where snow, rain and mud make their way into the home. Patterned rugs, indoor/outdoor rugs and other mats made from durable materials better disguise those unavoidable messes than light-colored ones. Choosing the right rug for such a high traffic area is essential, too, so look for something long lasting. A nylon rug works overtime by resisting dirt and mimicking a silk rug for a soft feel underfoot. Absorbent mats that wick away moisture also bring a convenient solution to rainy days, especially if you plan on having guests remove their shoes upon entry. If you're hosting a large gathering, consider laying out a second mat—or a boot tray—and incorporating shoe storage into your foyer.
If your front hall is missing a coat closet or you want an extra place for guests to hang their jackets, add a coat tree near your door, and invite guests in from the rain with an umbrella stand. And if you have room, consider incorporating a bench or stool to allow guests to easily slip their shoes on and off. Or, find a multipurpose piece of furniture that combines hanging storage and entryway seating—in addition to a convenient spot to stow shoes. Multifunctional benches featuring storage elements give guests a designated spot to leave their belongings in the entryway. For extra organization, add bins or baskets for corralling gloves, hats and umbrellas. Then, dress the bench with colorful pillows to liven up your entryway.
Step 2: Attract the Eye with Decor
Make the most of your entryway wall by highlighting both its utility and position in your home. If you have abundant wall space near your front door, consider attaching hooks and shelves. The hooks either supplement your front hall closet or completely replace it if you don't have one. On the hooks, stash everything from your guests' jackets to rainy-day umbrellas. They're also a great spot to hang a dog leash for those long-awaited walks. Then, use floating shelves to house small containers and bins for wrangling mail and gloves. Alternatively, display photos and other important mementos on these shelves instead.
Next, create a focal point with a decorative wall object, whether it's a mirror or an oversized print that matches the style of your home. If your entryway wall space is parallel to the door, consider hanging a mirror to reflect the light from outside and to give yourself and guests a place to check appearances upon arrival or departure. Mirrors come in many different finishes, from rustic reclaimed wood to elegant antique bronze. Choose a finish that reflects your home's aesthetic. When determining the shape of your mirror, consider both the size of the space and the feel of the room. To soften an entryway and minimize hard angles, choose a round mirror. Alternatively, accentuate the drama of tall ceilings with a rectangular mirror. The same goes for artwork. Depending on your home's aesthetic, take a bold approach with oversized works in shades that coordinate with your other furniture and decor. To keep with a neutral color palette instead, consider subtle paintings or photographs in grayscale. Going for a more curated look? Create a gallery wall by mixing the mirrors with a collection of framed artwork and family photos.
Entryway lighting fixtures also make an impression in the foyer. Whether you include a ceiling light, wall sconce or table lamp, be sure your choice adequately illuminates the space. That way, you can light up the front hall when you're getting ready to leave for work before sunrise or arrive home after sunset. A chandelier hanging from a high ceiling creates a grand entrance, while a simple wall sconce or table lamp provides a more subtle approach. When hosting evening gatherings, such as dinner or cocktail parties, a warmly lit entryway welcomes guests inside.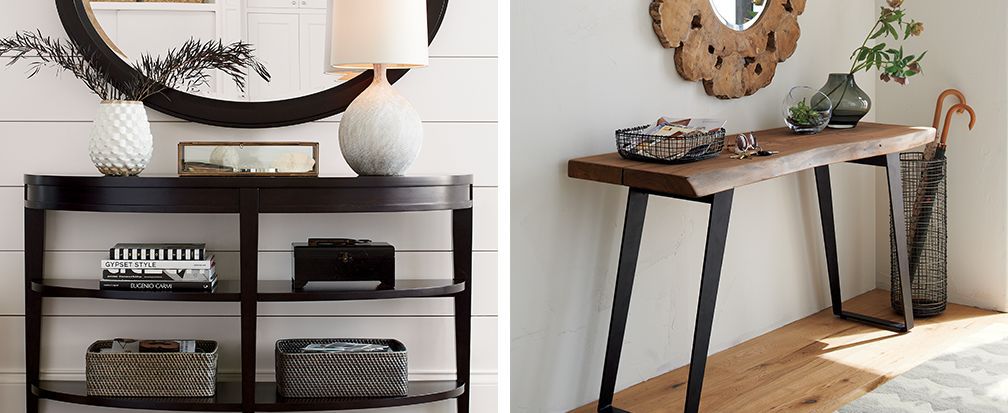 Step 3: Bring in Creative Storage Furniture
Complete your foyer with a functional piece of furniture that's also easy on the eyes—from a simple Parsons table to console units with plenty of storage. What matters most when choosing your table is making sure its scale is appropriate for your space. Too large a piece of furniture and your home's first impression will be a cramped one; not enough storage space and your home will feel disorganized. If you have the square footage, consider an entryway cabinet for extra storage. That way, you can keep personal items concealed within. If you need a more shallow entryway table to avoid interfering with traffic flow, look for a slim console table. You may also want to consider designing a custom table to ensure the frame dimensions and surface area fit your needs exactly.
Your entryway table serves as the runway for your home. It's where you leave the things you don't want to forget before "takeoff" and the items you bring back when you "land." In order to keep these items orderly (think keys, mail and sunglasses), look to kitchen and office supplies to help facilitate. For example, designate a small dish or tray as the collecting place, and make a habit of placing essentials in it so that you always know where to find them.
If you have an open area underneath the table, it is the prime space for extra storage. Bins, baskets, a storage trunk or even an ottoman with a storage compartment is easy to slide under the table and out of the way of foot traffic, while providing you with a place to collect personal items out of sight of your guests.
Consider the addition of a small clock to the table's surface to make sure your comings and goings stay on schedule. And don't forget to personalize the space with photos, flowers and even a table lamp.