Are you looking for simple ways to update your home? A home renovation is the easiest way to bring style and functionality to your space and enhance its value. However, a total home makeover is expensive, time-consuming, and requires professional skills. Read on for eight quick and easy home updates that will not break the bank.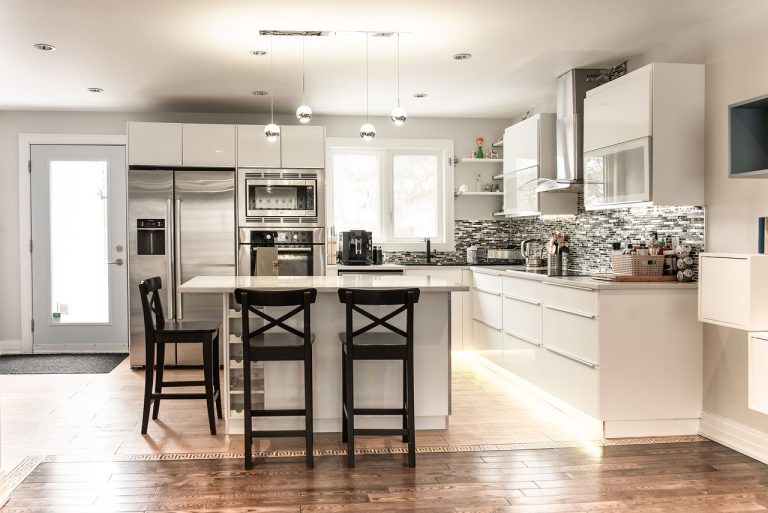 Proper lighting is the quickest way to bring your home to life. Poor lighting makes the house appear small, dark, and clamped, while adequate lighting makes it look larger, cleaner, and welcoming.
There are various ways you could brighten up your space with lights, including strategically placing floor lamps or table lamps on dark corners. You could also swap outdated light fixtures such as overhead pendants with stunning modern masterpieces if you want to be more adventurous. To increase the value of your home, especially when you intend to sell, invest in energy-efficient lighting fixtures such as LED bulbs.
2. Makeover the front door
Do not underestimate the impact of the front door, especially when updating your home with the intent to sell. The front door is one of the first things potential homebuyers see when they tour your house, so you need to ensure that it makes a statement. Consider painting and sanding the existing door to make it more attractive.
3. Add a fresh coat of paint
One of the easiest and most inexpensive ways to change your home from drab to fab is by adding a fresh coat of paint. Painting revamps the home without necessitating significant renovations. You should identify areas that require touch-ups, including interior and exterior walls, ceilings, or outdated pieces of furniture, and bring them to life using a fresh coat of paint.
However, be careful with your paint selection. If you are looking to sell the home, you should avoid bold colors as they may alienate potential buyers. Instead, go for neutral colors like gray, white, or beige. If you do not want to sell, have respective occupants of specific rooms pick the color that appeals and reflects their style. With that being said, avoid paint with plastic as an ingredient as they form a barrier that traps air, leading to the growth of mold, which could compromise your indoor air quality.
For the home's exterior, including railings, shutters, and siding, opt for quality paint designed to withstand extreme weather conditions for optimal results.
4. Develop an open floor plan
An open floor plan is at the top of the list for most prospective buyers today. Buyers want an open floor plan where the dining room, family room, and kitchen share a single vast open space, so you need to create more space to make your house appealing.
Making your home more open and airy does not have to be complicated. You could simply get rid of big, bulky furnishings or move furniture around the house to determine which arrangement creates the most open space. You could also add mirrors to the room to create an illusion of open space. When you position mirrors across windows, they reflect light into the house, making it appear more extensive and open. However, if your budget can accommodate a significant renovation, you could tear down the kitchen walls to sync the cookhouse to the family room.
The cookhouse is the heart of every home, so it is at the top of a buyer's list. If you are not going for a complete overhaul, you should consider deep cleaning the cabinets, walls, floors, sinks, and other appliances. Make the kitchen brighter by adding a fresh coat of paint to the kitchen cabinets.
Other crucial projects you could handle to transform the kitchen include replacing door handles and cabinet knobs, adding new flooring, and building shelves to increase the storage space. Be sure to also invest in modern kitchen appliances to increase the value and efficiency of your cookhouse.
Along with the cookhouse, the bathroom can make or break your home in a prospective buyer's eyes. Start by deep cleaning the bathrooms as they are often dingy and dirty to gain motivation to spruce up the rest of the bathing area. Next, identify outdated light fixtures, knobs, faucets, vanity, and shower curtains and replace them to give your bathroom a new and modern look.
You could also install a ventilating fan in your bath to eliminate stale odors, fogged-up windows, and steamy mirrors. A ventilating fan can also help prevent moisture-related problems, including the development of mold and mildew, which are expensive to remove and often lead to health complications.
7. Add window treatments
Most homeowners overlook the windows when determining what style suits their home best. They often install standard blinds for privacy. However, the windows are a crucial layer of decorating the entire house. Whether or not you have a mountain or ocean view, dressing the windows could bring a unique and elegant style to your space.
Depending on your taste and preference, there are various window treatment options you could choose from. You could achieve a beachy feel with gauzy white sheers, a bold and graphic look with geometric curtain panels, or a minimalist option with bamboo shades. You could also match the curtain panels to the color schemes already in your place to create a look that complements any style.
8. Increase livable square footage
The more spacious your home is, the more attractive it will be to potential buyers, so you should consider increasing the usable space. You could improve the functionality of your space by repurposing a laundry or storage room into a bedroom or seating area, turning a formal dining area into a home office, crafting room, or giving the man in your room a place to escape to by making a man cave. By improving the functionality of your space by adding livable square footage, you increase the value of your home, which translates to more returns on your investment.
Endnote
You do not have to spend thousands of dollars to update your home. Add a fresh coat of paint and new lighting, upgrade the kitchen and bathroom, develop an open floor plan, and increase the livable storage to spruce up your living space.