As much as purple is the color associated with imagination and creativeness; it is also a bit a showcase of an individual's immaturity and impracticality – but, if the outcome of this impracticality is one fashionable and stunning bedroom, then it's definitely worth it! The bedroom collection we have for today is mixed with black and white which makes it prettier because as we all know, aside from being great partners, black and white matches with any color it is paired with.
By the way, we forgot to mention that purple also symbolizes royalty – when mixed and matched with black and white, viola! It's warm, classic and ultimately a favorite for artists. With that being said, check out the designs of the 15 Stunning Black, White and Purple Bedrooms which our designers created. The photos below will showcase bedrooms, even we would love to have, let's go!
Feeling Bed With Black High-Backed Headboard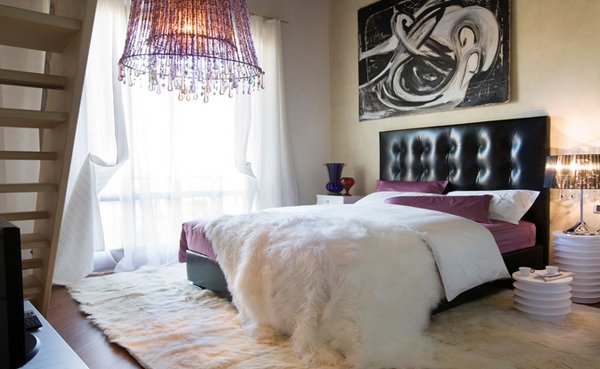 Imagine-Living
Black and white bedroom. Masculine, contemporary and very James Bond bedroom composition feeling. This super luxurious bedroom set will have you feeling great after a good night's sleep! The purple bed cover and pillow cases added a little drama to the already lovely bed!
House Belsize Park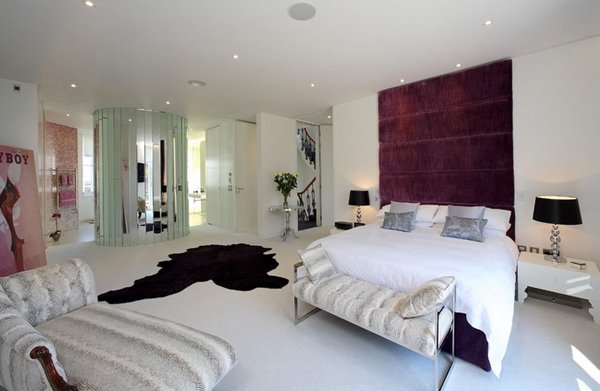 This rich plum headboard seems to glow in this big, white room. Very dramatic, and will definitely be a head-turner!
LA Art Deco Inspired Bedroom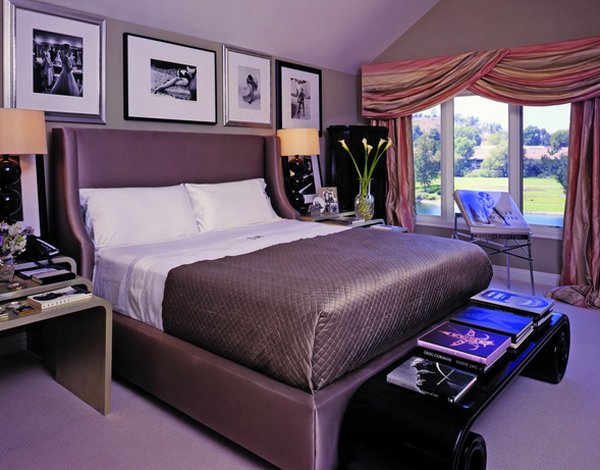 Tracy Murdock Design & Management
This Art Deco inspired bedroom decorated with black and white art photographs, luxurious satin and silk taffetta make it super sophisticated and sexy.
Marylebone Apartment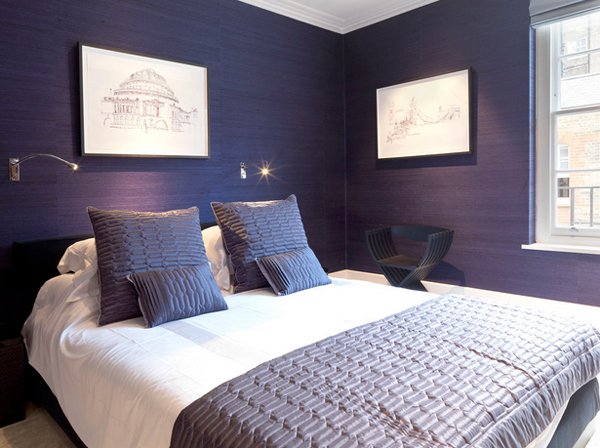 Icon Interiors UK
This beautiful apartment is furnished with a bespoke dining table in walnut veneer, teamed with a console desk. The floors are covered with silky bamboo carpets, and the walls are clad in texture taupe silk by Stereo Wallcoverings.
Modern Bedroom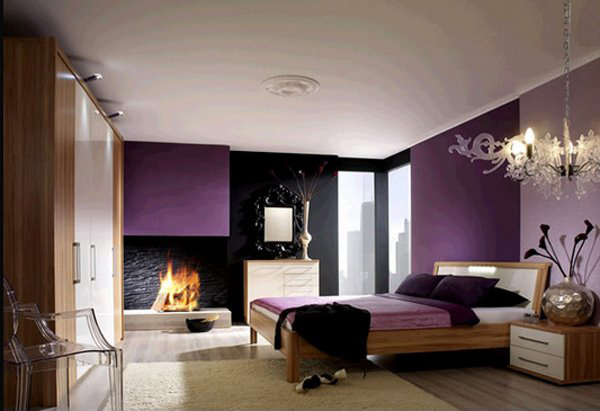 Design Wagen
Note here that in the brightest corners by big windows, they've used the darkest shade of their color. The mid tone is mid-room and the lightest is in the bed alcove and on the ceiling. Very dramatic use of purple here. We applaud their bravado but this may not be for everyone.
Modern River Living
Chris Nook
This white contemporary bedroom is brightened up with the bright colors of the comforter and the pillows. The black lamps and headboards neutralize the bold colors on the bed.
Monaco Model in Jersey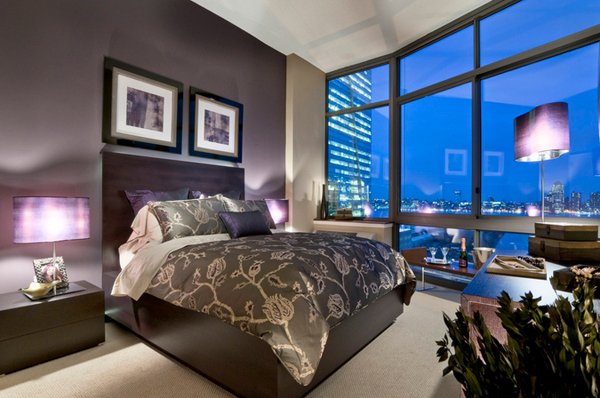 Window Works
Here's another deep purple hue; this one is a bit on the warmer side, with some red in it. This shade looks fantastic paired with dark wood tones and light, warm neutral hues.
New York Contemporary Bedroom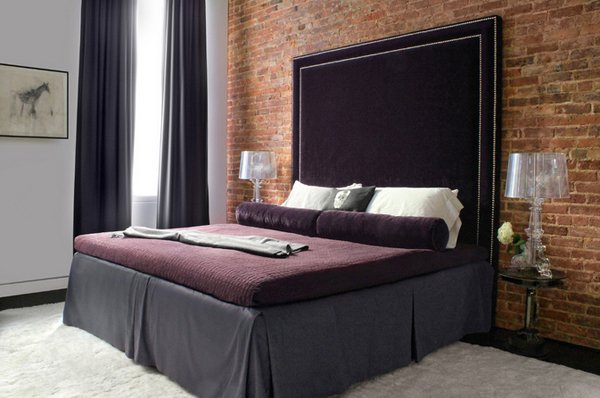 Tamara H Design
An extra tall, custom headboard makes a statement in this master bedroom with plush, violet mohair and oversized nail head trim. A thick alpaca rug adds extra comfort to this sophisticated, sexy space.
Ponte Vedra Residence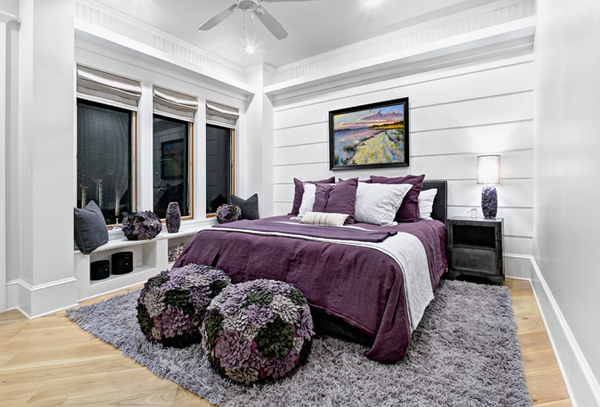 Adam Cohen for Beach Chic Design
Here's another example of taking a light and neutral space and adding drama via purple furnishings. And should your love for purple wane, you can easily replace some of the textiles and accessories without breaking the bank.
Regal Master Bedroom
Arlington Home Interiors
If you favor a plethora of cool purple in your bedroom, try pairing it with light, warm neutrals for some contrast. It will help break up the color for visual balance.
San Diego Modern Bedroom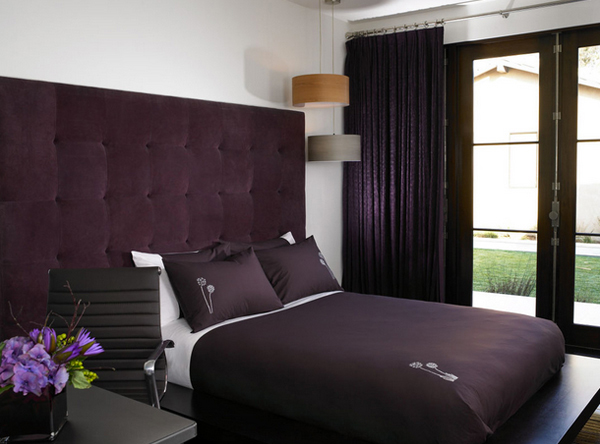 Suite 102 by Amy Noel
The headboard of the modern bed makes it really clean and crisp but still comfy.
San Francisco Bedroom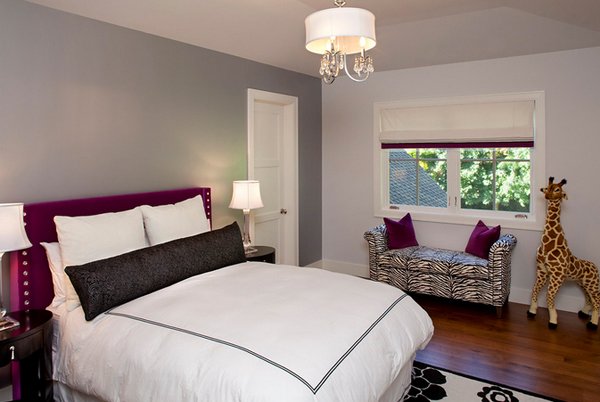 Artistic Designs for Living
A flat three-panel door painted white pops against this bedroom's dark grey wall. The purple headboard complements with the white bed.
Stylish Apartment Living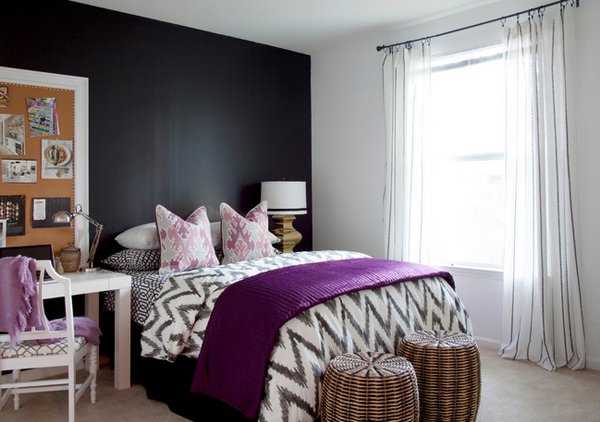 Dayka Robinson Designs
Black in BackForgo the headboard and paint the wall behind your bed an unexpected color. Black can serve as a neutral backdrop for any other color you desire. Combined with purples here it has a regal vibe to it – very simple yet sophisticated.
3 Bedroom House Renovation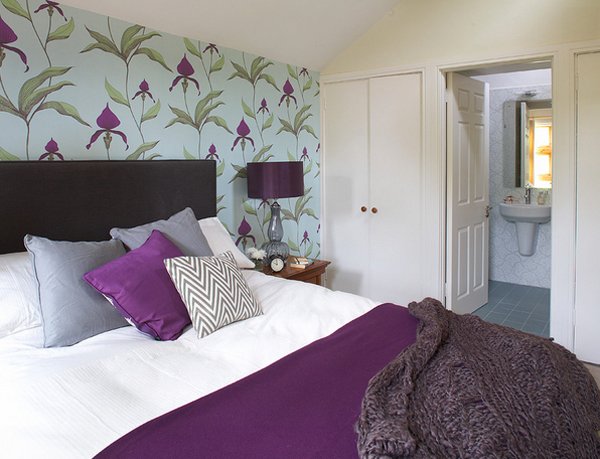 Think Contemporary
The wallpaper of purple flowers and leaves look great as a backdrop for the black headboard matched with a white bed and purple beddings. Even the lamp is a shade of purple, we love it!
Lelekovice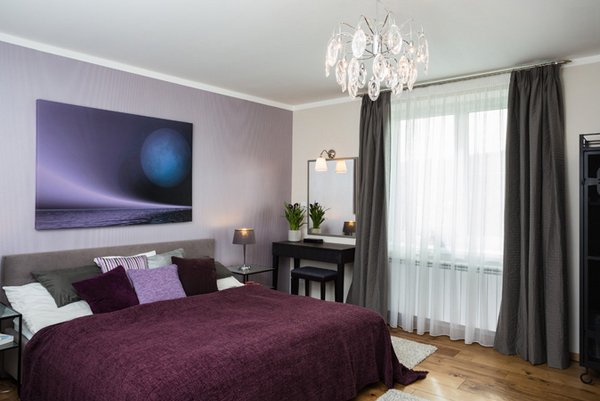 Home Staging
Notice the combination of the colors this bedroom has. Purple, grey, white and a bit of black. Just a match made in heaven.