A fresh cup of coffee never goes out of style, but kitchen cabinets cluttered with coffee pods, syrups and mugs certainly do. Streamline your morning routine by setting up any one of these coffee bar ideas. It's as simple as it sounds: Carve out a space in your home (think: a kitchen cabinet, countertop, pantry or bar cart) and fill it with everything you need to fix up the ultimate morning brew, afternoon pick-me-up or after-hours nightcap. Here, you'll find an easy DIY that fits your space, budget and overall decor style, ranging from a fully-stocked coffee bar tucked away in a built-in cabinet to space-saving coffee cart that you can move from room to room. Even if you're short on space, these easy DIYs will show you clever ways to make room for a coffee station in a small kitchen.
Sure, they're a functional addition to any coffee lover's home, but most of these coffee bars also make great statement pieces, no matter if your space embraces a modern, classic or farmhouse aesthetic. You can customize your coffee bar to fit your household's tastebuds, mixing in hot cocoa pouches, tea bags and other drinks for everyone else to sip on.
1.
Day-to-Night Drinks Cart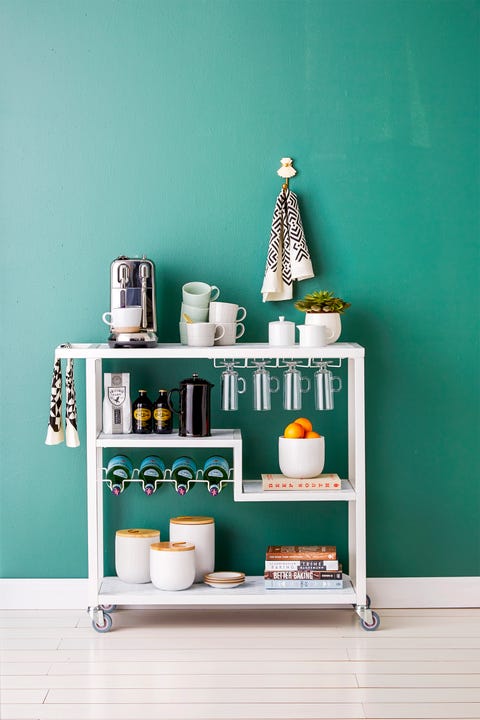 Keep the drinks — caffeinated or otherwise — going from morning to night. This day-to-night cart is big enough to store the ingredients and accessories for morning brews, nightcaps and everything in between.
2.
Closet Coffee Bar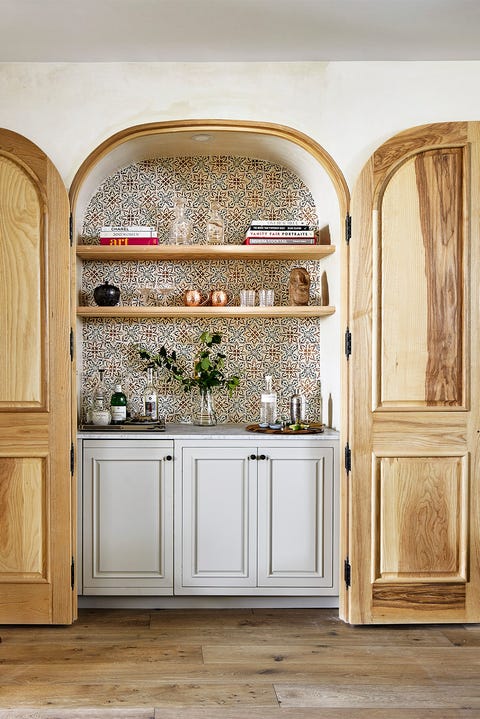 Turn a spare closet into a stylish coffee bar by covering the wall with a bold temporary wallpaper and dotting the shelves with decorative accents.
3.
Built-in Coffee Bar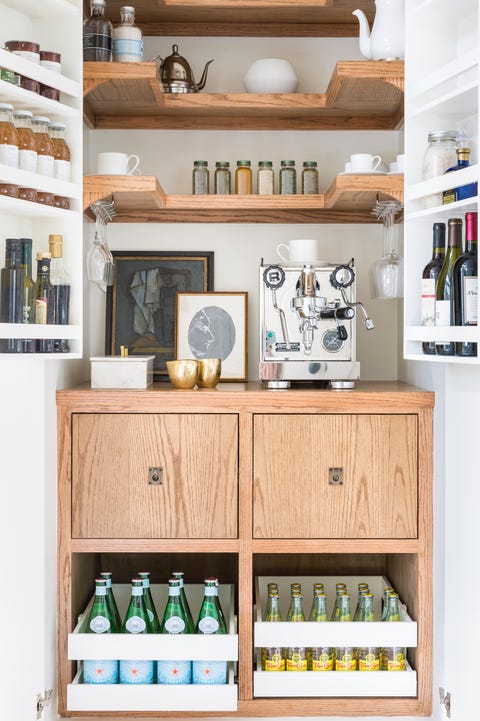 Built-in cabinets offer unlimited opportunities: Display coffee mugs on shelves, stick syrups and shelf-stable creamers in the interior cabinet doors, and place your machines on the counter.
4.
Simple and Chic Coffee Bar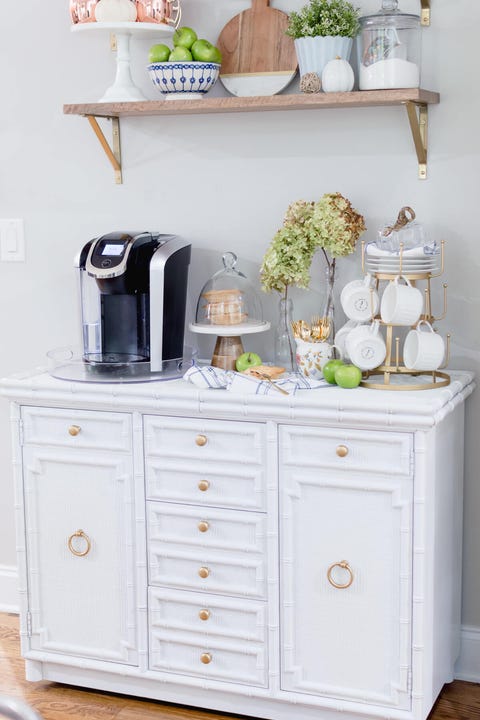 Keep your early morning essentials —a coffee maker and your go-to mug — in plain sight and tuck everything else in drawers.
5.
Modern Farmhouse Coffee Bar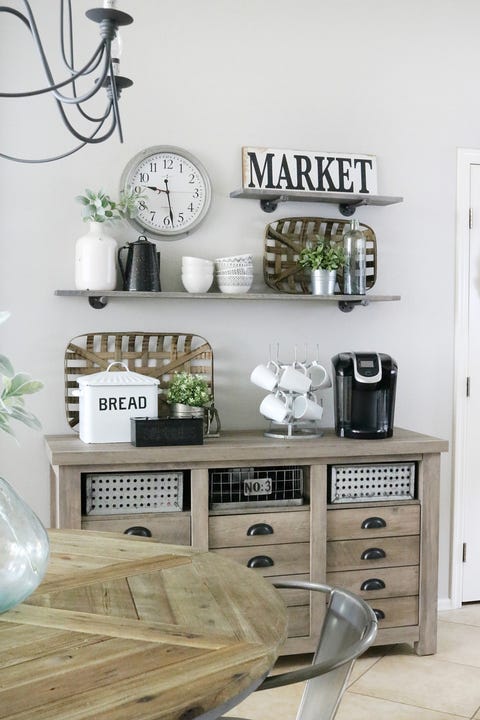 REBECCA LOPEZ FROM THE CRAFTED SPARROW
Bring out the farmhouse aesthetic with galvanized metal storage bins, weathered tobacco baskets and pops of eucalyptus.
6.
Sleek Coffee Corner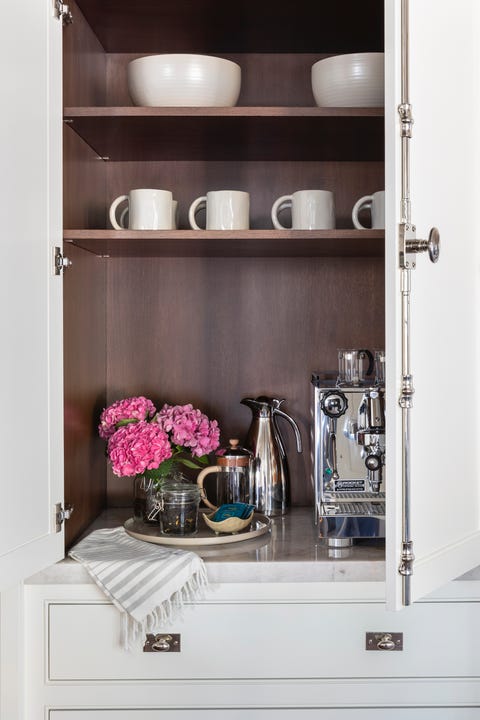 To avoid a cluttered countertop, keep all of your coffee essentials tucked away in a cabinet. Stick your sugars, syrups and coffee pods on a ceramic lazy Susan for easy access.
7.
Space-Saving Coffee Bar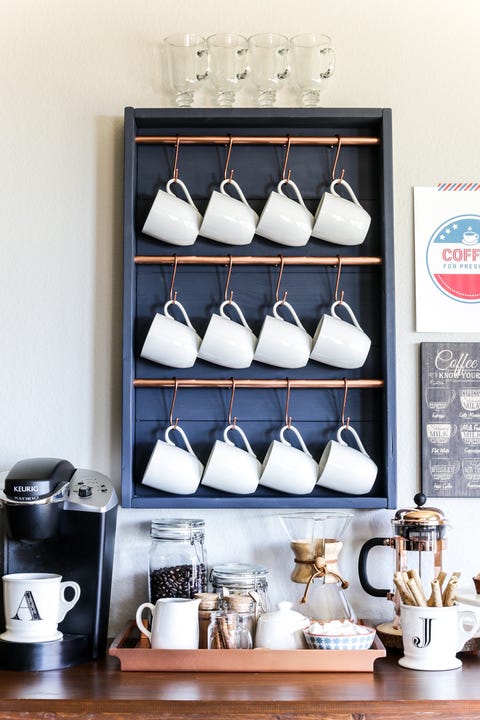 Save valuable counter space by affixing this navy and copper display to the wall. You can store up to 12 coffee mugs on the metal hooks and add a few extras on top!
8.
Refreshed Antique Coffee Bar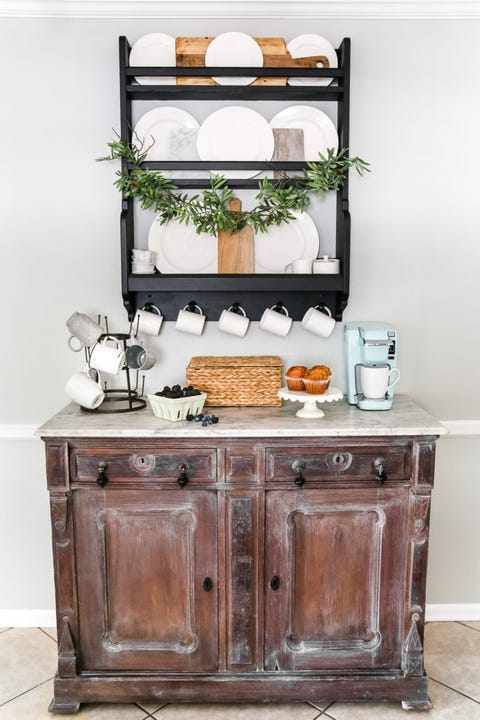 For a true trash-to-treasure DIY, coat an antique buffet with a glossy finish to give it a more modern feel. Cover any imperfections with baskets, jars, and an assortment on monochromatic mugs.
9.
Well-Stocked Coffee Cabinet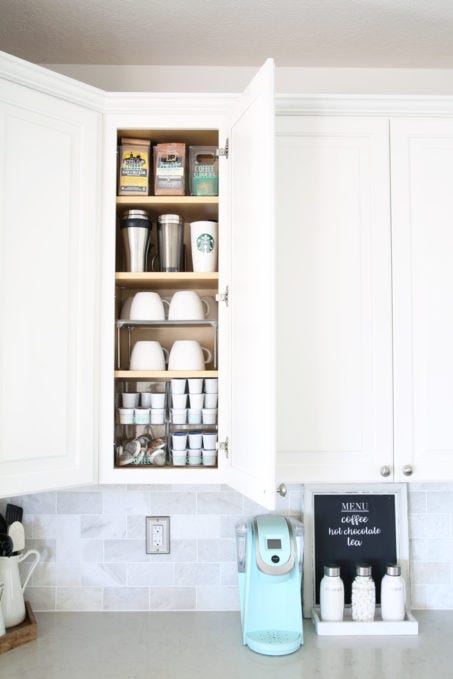 Work with what you've already got by transforming a slim cabinet into a makeshift coffee station. Stash all the basics on the shelves, starting with your most-used items on the bottom.
10.
Keurig Coffee Bar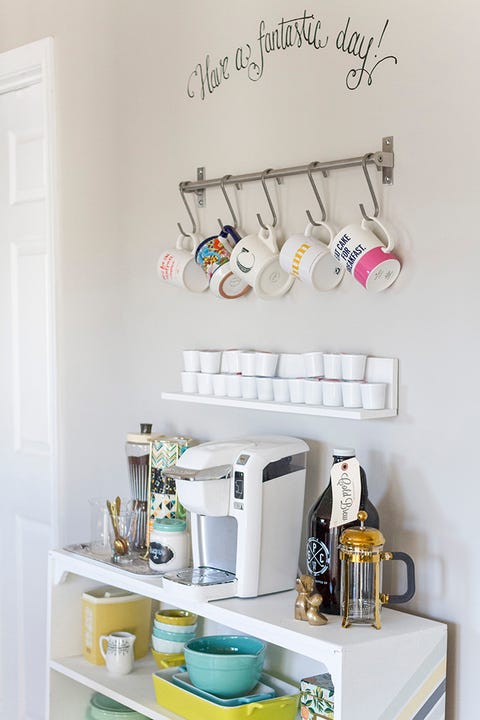 Store K-Cups, coffee pods and mugs directly on the wall to give you plenty of room to fix your morning brew.